Wing Ding News!
---
Tumbler Raffle: Click Here
Smoker Round Info: Click Here
Registration Facts:
Wing Ding Registration begins 7am – 1pm every day
Night Shoot Registration begins 7am – 1pm Saturday and again at 7pm till dark.
---
40 – 3D Targets
Plaques to be awarded to top three places in each class after their shoot off
Raffles for the following:

Timberhawk Bow
Hunting Equipment

Lots of knives to be tipped off
Free camping (starting Friday)
Customized laser work after lunch.
Trade blankets setup all day
Home cooked food available starting Saturday morning
The Night Shoot will start at sunse, Saturday September 16th
Follow the site for score updates during that whole weekend.
All scorecards must be turned in by 1pm Sunday to be accepted for any awards
Top 3 shooters of each class must be present for a shoot-off starting at 1:15pm.
All shooters must be off the range by 5p on Saturday and 1pm on Sunday.
Awards ceremony will begin at 2pm.
Wing Ding Shooting Fees:
Member Shooting Fees: Wing Ding Shoot

Adult and Youth: $30 (Wing Ding Price)
Cubs: $15 (Wing Ding Price)
Pee Wee:
Night Shoot: $15 for Adult/Youth/Cubs – Free for Pee Wee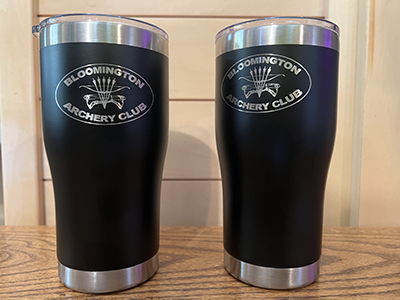 Bring Someone And Win a Tumbler!
That's right… bring someone out who has not shot at Bloomington Archery yet this year and you AND that person get entered into a special raffle. Must register at the WingDing. Winner to be announced at closing event. 
1). The smoker challenge will be one arrow only $5 to enter shoot 10 targets. 50% pay back to winner other 50% fund raiser goes towards new target for club. There will be two classes traditional and compound.
2). Clay shoot is a team shoot use 6 arrows each. $5 a head to enter 50% payout to winners other 50% goes towards new target for club. This is a game of elimination the first team that breaks all 4 clays moves on to next round.